March 2014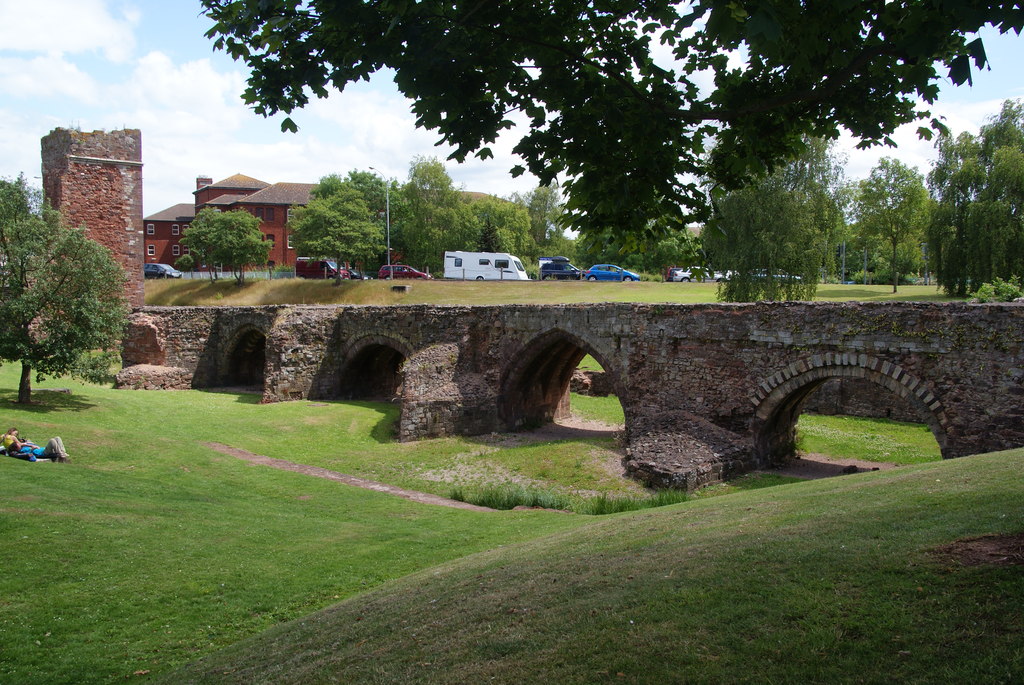 The Old Exe Bridge at Exeter © Copyright Bill Boaden and licensed for reuse under this Creative Commons Licence.
In March our rivers and streams are often in spate, swollen by winter rainfall, aquifers filled to capacity or meltwater from the mountains, so it's the perfect time to reflect on some of the historic bridges that span Britain's natural waterways.
From the packhorse bridge's low parapets designed to accommodate the groaning panniers of ponies en passage, to the pointed cutwaters protecting the piers of medieval bridges, the imperative to connect one bank to another has inspired centuries of development, engineering and even a dash of the evangelical. Indeed, the architecture that tied two banks of a river was second only to the buildings that promised man passage over the ultimate threshold; the medieval period was the golden age of both church and bridge building.
The correlation of passage to another kind of 'other side' wasn't lost on the medieval church and a few bridge chapels still remain – at St Ives, Cambs.,Wakefield, Rotherham and Bradford-on-Avon (though re-purposed as a town gaol) – all of which underline the spiritual importance of stone bridges in the landscape. In Durham, bridge building was the direct responsibility of the bishop but it was only one of many medieval cities where bridges had a connection with the cathedral.
Like churches, the high status of bridges ensured that they were periodically improved and occasionally re-built for the needs of the day; just as cathedrals are rarely the work of a single architectural period, it's not uncommon to find bridges exhibiting building styles that span hundreds of years, all of which can make dating them difficult. Fortunately, a few reliable indicators to age such as the shape of the arches and the presence of ribbed vaults will help you sort out original or, at least, faithfully restored features from later modifications. At Exeter, the disused and now incomplete 13th century Exe Bridge has latterly been run aground and stranded on a traffic island, but at least you don't have to get your feet wet to admire its fabulous ribbed arches alternating between Norman-inspired semicircular and the pointed arches which were the invention of Early English church builders. By the 1500s, the segmental arch – round but less than semicircular – enabled longer spans, useful in upland locations where flood waters could sweep away a bridge with too many piers. Two of the three spans of the Devil's Bridge, Kirkby Lonsdale, Cumbria are in excess of 16 metres, while Twizel Bridge in Northumberland has a single span of approximately 30 metres.
We may take them for granted, but medieval bridges reveal our history; engineering feats first pulled off high above the mumble of prayers have found a way of helping us all over troubled waters.
July 2013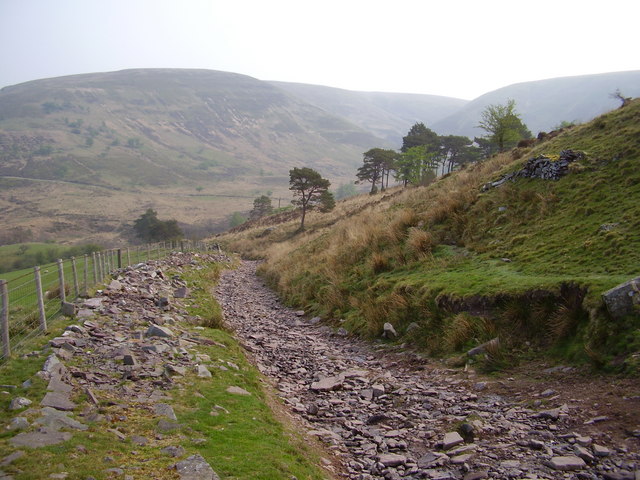 Known as Quintilis before Julius Caesar modestly renamed it in his own honour, the month of July is a fitting time to consider one of the most striking features of the British historic landscape, the Roman road. Although there are about 2,000 miles of them shown on Ordnance Survey maps, estimates of the total length of the network, including presumed minor thoroughfares undiscovered and skulking under fields, suburbs and industrial estates across Britain could expand it to around 6,000 miles.
They were built as logistical tools of empire, to move legions and supplies at speed and, it seems in some cases, to scare the willies out of the locals; Ackling Dyke on the chalk upland between Martin Down and Blandford Forum strides out across the landscape on an overstated, six feet high embankment that shows utter contempt for the barrows, dykes and cursus it merrily ploughs through. The bank – or agger – of the road, though exaggerated, is of a typical layered construction; indeed, the latin word for layers, strata, gave us the word street, an Anglo-Saxon place name often found along the course of Roman roads. Stretford, Stratford, Stretton, Street and their ilk are common names of settlements found along the way, while the Norse word for road, 'gate' – particularly when used with 'stone' or its derivatives Stan, Stane or Stoney – might also indicate the course of a Roman road.
In Europe the maxim holds that 'all roads lead to Rome' while in Britain, they tend to radiate from London. The Fosse Way – between Exeter and Lincoln – goes against the grain, however, and may have even started as a defensive structure during the early years of the invasion, then adapted later as a road and an enduring one, to boot; much of it survives as a taut thread of primary and secondary routes through a tangle of English country lanes. Despite their reputation for straightness (between Ilchester and Lincoln, a distance of 180 miles, the Fosse Way never deviates more than 6 miles from the crow's flight) pragmatism forced Roman architects to make more concessions to the landscape over time and the Roman road eventually learnt how to bend.
Stanegate, which crosses the Pennines south of Hadrian's Wall between Corbridge on the Tyne and the Solway Firth, is one such winding road. It connects at Corbridge with Dere Street, the most easily traceable Roman route into Scotland, running all the way to the Forth Estuary. Given that there's evidence of Roman activity as far north as a line from Stirling to near Stonehaven and claims of a fort at Inverness, there are likely to be many more roads found, long-forgotten, on the outskirts of towns or hidden in the remote straths and glens of Caledonia.
June 2013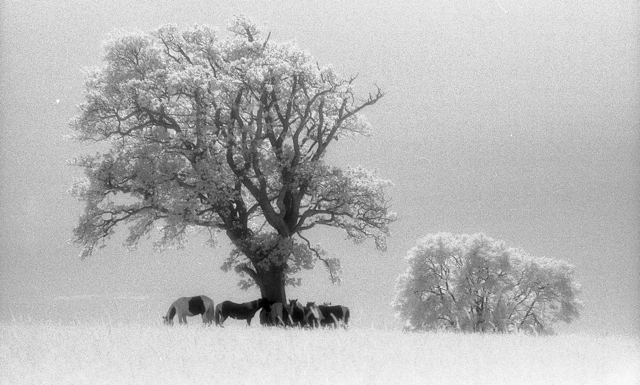 Among the oldest thoroughfares in Britain, drove roads were, for all practical purposes, the primary route network of their time. At their height between the Middle Ages and the Industrial Revolution, the roads linked the wild corners of Britain – particularly Scotland, Wales and the Westcountry – with the growing demands of towns and cities where livestock could be brought to market.
Extraordinary numbers of cattle and livestock were involved; in 1794, 10,000 cattle were exported from Anglesey alone, while 30,000 passed through Hereford each year. The routes from the north were just as busy; Scotland's own extensive network of drove roads fed huge herds to fairs like the Falkirk Tryst, from where the cattle would begin an even longer journey south at the hands of their new owners. In 1663, 18,574 cattle were recorded on their way through Carlisle, while in Yorkshire during the early 19th century, up to 100,000 were herded each year towards Southern England on Hambleton Street, one of Britain's most ancient trackways .
Cattle drovers steered clear of the settled population; for most of their length, routes ran over isolated ridgeways and kept away from villages, a strategy which had the added benefit of avoiding hefty turnpike fees and delays.
Many of the old tracks are known by their original names – Old Shaston and Ox Droves in Wiltshire, for example – while others take a little investigative work to discover. There are over a hundred hamlets and village streets called Little London in Britain – where Welsh drovers set up temporary communities on common land a short distance from an established village – and a nearby road or track called Welsh or Welshman's Road, Cow, Bullock or Ox Lane, is likely to be the drover's route itself.
Drove roads are broad for country lanes – anything between 40 and 50 feet across (12-15 m) is common, while a few are up to 90 feet (27 m) wide – with generous verges for grazing and dog-leg turns that provide shelter from the worse of the weather. The line of road is often marked by regularly spaced evergreens towering incongruously above the hedge-line, usually scots pine, laurel or holly, but sometimes yew, particularly in Hampshire. A clump of three or five evergreens together would mark a crossroads, a water-hole or an inn and where drovers stopped for the night, the cattle would graze – two-for-a-penny – in Halfpenny greens by the inns.
The railways brought centuries of droving to a rapid end and now, though the roads still run over the ridgeways of Britain, they are peaceful byways where the sweat and thunder of passing cattle is now supplanted by the whispering rustle of ramblers' cagoules.