This week's scenic parking - of Loch Lubnaig, near Callander - is provided by BLC member Ken.
"When you drive up out of the central belt, climb up into the hills and drive alongside the loch here you just have to pull in at the parking / picnic spot, and take a good long look at the loch. The water can go glassy flat and reflects like a mirror. Terrific."
View Larger Map
The BLC is offering
signed copies of The Lie of the Land for the special price of £13.00 including p+p
- £2.00 less than the published price. The book has gathered some excellent reviews since it was published earlier in the summer (see below) mostly concentrating on what an informative, but light, read it is.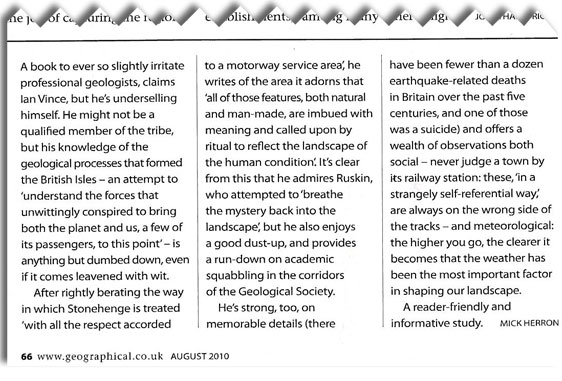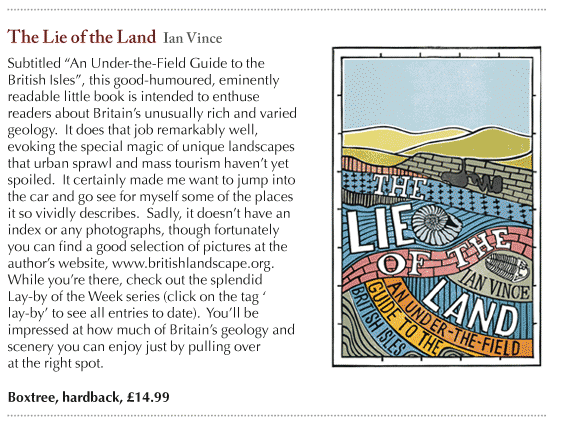 Dales Life

"Anyone who has ever picked up a pebble at the seaside or a rock on a moorland path will find invaluable Ian Vince's geological guide... you will understand the area round your British holiday cottage far more deeply than before." Giles Foden (Author of
The Last King of Scotland
),
Condé Nast Traveller
"Takes the reader on an explosive journey across millennia. Continents glide thousands of miles like contestants in Strictly Come Dancing, Scotland swelters on the Equator and Snowdonia boasts a volcanic ring of fire with mountains taller than Everest."
Daily Express
"Brings an easy touch to a subject most would leave to a hirsute geographer"
The Field
"The English Channel is a relatively recent addition to the landscape, caused by two enormous floods which took place 450,000 and 200,000 years ago respectively, as huge, glacier-fed lakes burst their banks. Had it not been for these two inundations, Vince muses, the history of Britain - and even the world - could have turned out very differently"
The Scotsman
"Far from a dry, scholarly tome, The Lie of the Land is brim full of facts dressed up in a lively narrative more akin to a fictional adventure. Vince is a passionate soul and natural wordsmith."
Western Morning News
"This is a layperson's guide to why the scenery in Britain is so varied. It starts in the far north-west of Scotland, describing and explaining the oldest rocks in the British Isles. It then explains the concept of geological time before starting a backwards journey from the most recent past. The geology of each period is explained with reference to its effects on the landscape we see around us and how the rocks were formed. There is a map with each chapter showing where rocks of the period being discussed are at the surface.
The book is written in a friendly and accessible style, with enough use of anecdote and humour to make it an enjoyable and relatively light read, while still being informative. There are suggestions for further reading in the back for anyone who wants to go into the geology in more detail. I enjoyed reading it even though (in theory) I should already know most of what it says. I would recommend this to anyone with an interest in landscapes."
Science File book reviews - sciencefile.org
To buy 1 copy for £13.00 inc p+p, click Buy Now below to pick up your copy and find out about the Britain beneath your feet. If you want more copies or first class post, go to the
BLC shop
Thursday, 02 September, 2010. Filed under:
Landscapes
In the course of the relentless campaign of internet dredging I like to characterise as "research", it's often quite difficult to find sites of interest to the landscape enthusiast, but on the odd occasion I manage to discover a real gem. Two such gems - though related to one another - are the websites of
Landscape Appreciation
and
Landscape Genres
. Both sites are off-shoots of a
Yahoo Group of landscape appreciators
and each has a slightly different focus. Landscape Genres seems dedicated to classifying different kinds of topography according to a slightly psycho-geographical formula while Landscape Appreciation is more wide-ranging and includes a number of fascinating articles on the artistic representation of landscape, the idea of
genius loci
- the spirit of place - and the history of landscape tourism through the production of postcards, photo-chromes, photos and other tourist artefacts. Recommended.